Table of Contents
A one week photography road trip itinerary in Iceland
Lately I've been seeing the most amazing pictures of Iceland popping up everywhere. It's hardly a miracle that Iceland seems to be an Instagram hotspot these days, as the country treasures some of the most mind blowing natural beauty I've seen. It was after seeing my brother Albert Dros's Iceland pictures that I was finally convinced to visit Iceland. Full disclosure: he also largely helped me creating this itinerary and with his help I created the perfect route for a one week road trip in Iceland.
Why doing a road trip in Iceland?
Because Iceland has some of Europe's most extreme nature, from glaciers to volcanic geysers.
Iceland can be visited all year round, in winter a large part of the country will be covered in snow and you might be able to see the Northern Lights, whereas in summer the country's landscapes turn green and offer amazing hiking possibilities.
Iceland is a photographer's paradise, you'll literally see beautiful landscapes everywhere you go. And in most parts of the country droning is perfectly legal, as long as you do your research and stick to some basic rules.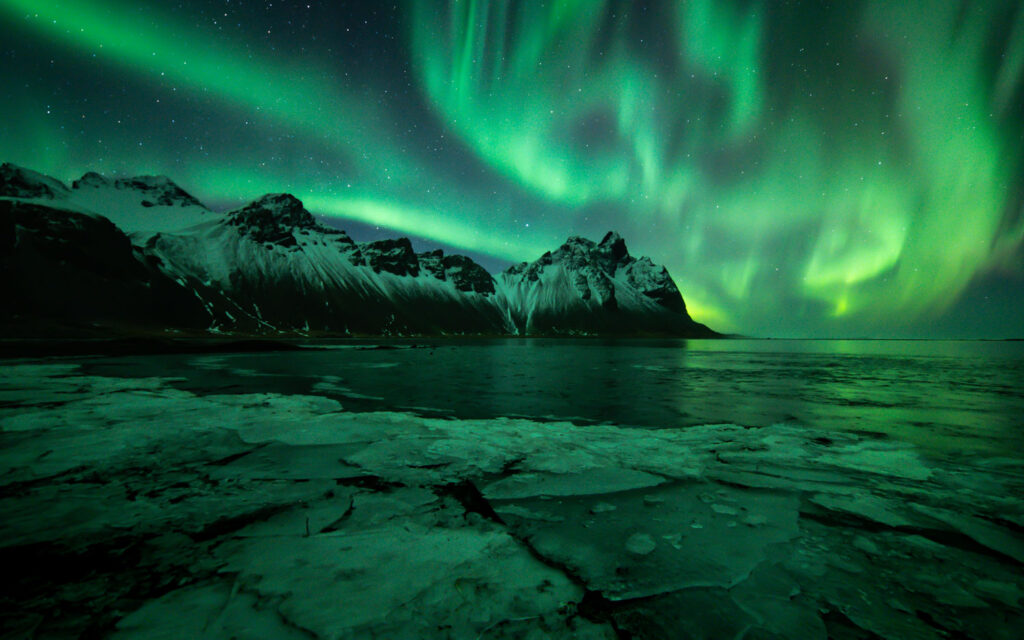 Where to go on a one week road trip in Iceland? Where to take the best pictures in Iceland?
It's hard see the entire island in one week, as the country has so much to offer. Instead I'm focusing on southwestern part of the country for a one week road trip: it covers most highlights and is ideal for a first time visitor. I'll leave the other parts of the country for another trip.
Reykjavik
You'll most likely arrive in Iceland's capital city Reykjavik. It makes sense to start your journey here and stay one night to discover the city's main sights, such as the blue lagoon. Due to a storm hitting Iceland on the day I was supposed to fly I came in one day late and unfortunately had to skip Iceland's capital city.
Snæfellsnes Peninsula
Geysir hot spring area & Gullfoss waterfall
Skógafoss & Kvernufos
While Skógafoss is one of Iceland's most famous waterfalls, its little brother Kvernufoss is located just around the corner in an idyllic little canyons that invites to be explored. By foot or by drone.
Solheimasandur Plane Wreck
Vík í Mýrdal (for Black Sand Beach)
Also known as Vīk, this is where you'll find the famous long Black Sand Beach (Reynisfjara Beach), one of Europe's most dangerous beaches (to go into the water) due to the extreme conditions of the ocean. Vík itself features a really nice viewpoint from where you can photograph the Church with ocean and its cliffs in the background. Another highlight here is Dyrhólaey a little peninsula with great views over Black Sand Beach as well.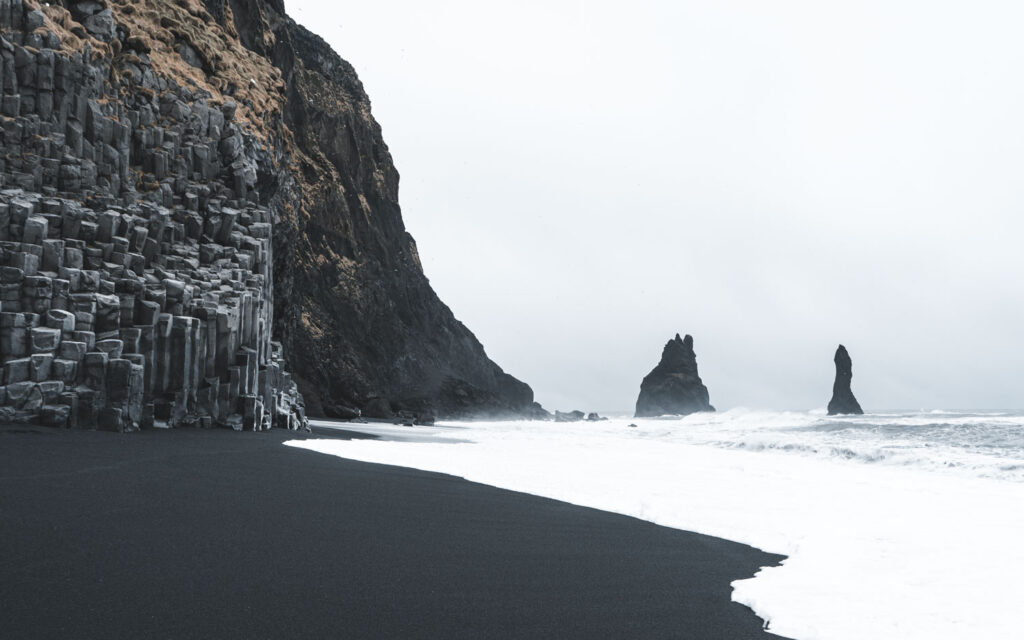 Fjaðrárgljúfur Canyon
Fjaðrárgljúfur Canyon is super easily accessible, not even a few minutes away from the ring road. The canyon can be seen from the parking lot and a hiking trail can be done to see the canyon from different perspectives. When I went, the canyon was completely covered in snow which was beautiful to see as well.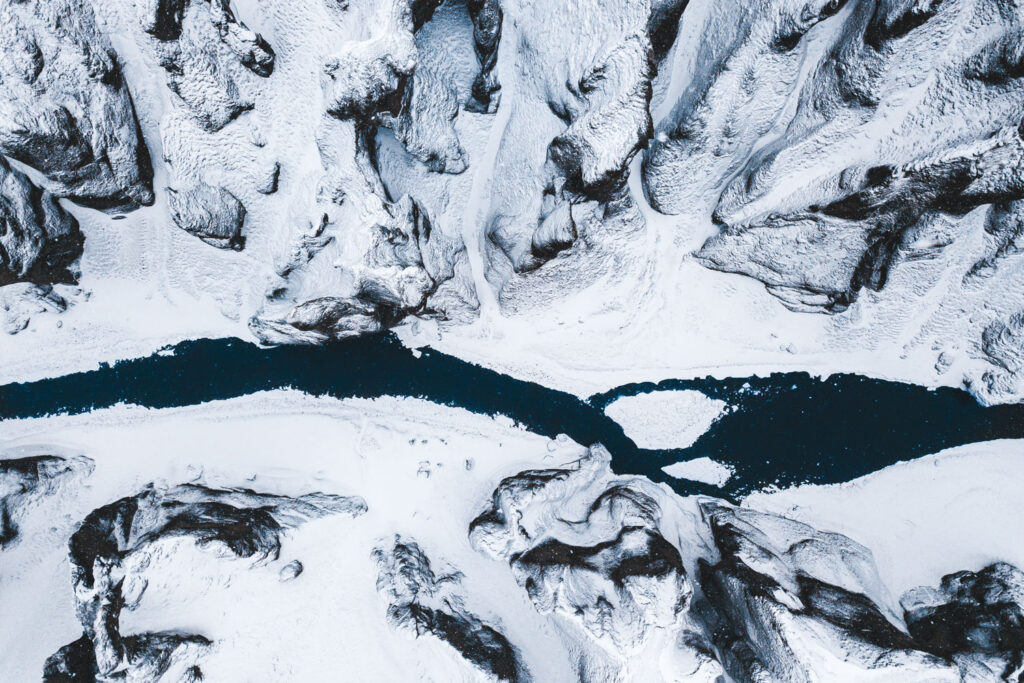 Svínafellsjökull, Fjallsárlón, Glacier Lagoon
I had never seen a glacier before and was blown away by the beauty of these three glaciers. All of them are located close to each other on the ring road and I'd check out all of them. These three glaciers all equally beautiful. While Glacier Lagoon is the most famous out of these three, Fjallsárlón and Svínafellsjökull are as beautiful and less touristy.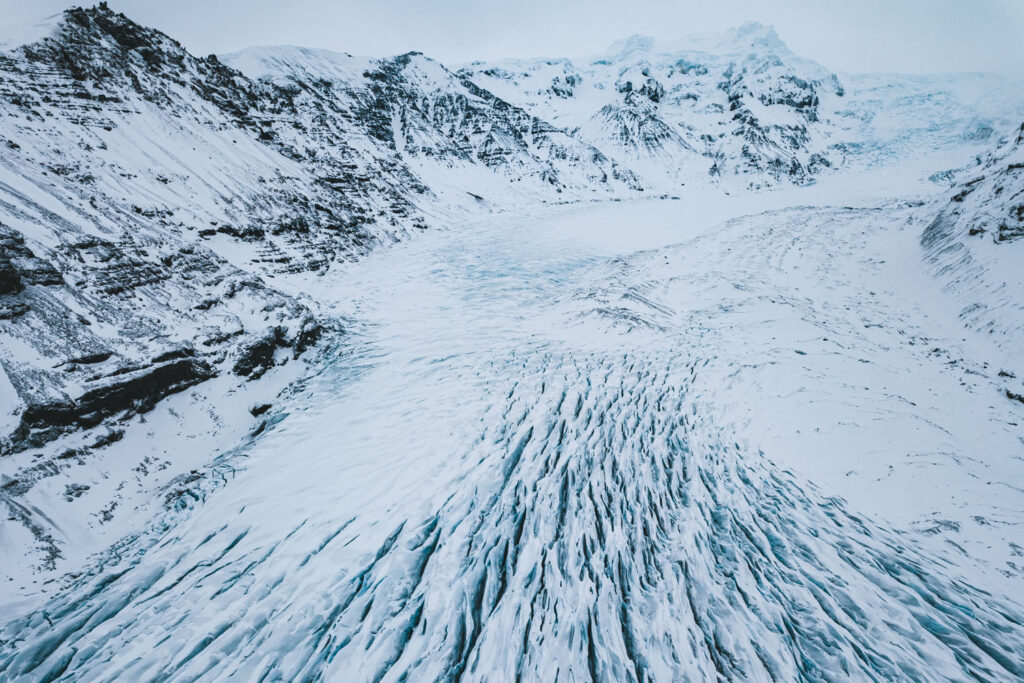 Diamond Beach
Diamond Beach is located right in front of Glacier Lagoon. In fact that the ice from Glacier Lagoon forms the beach's "Diamonds". As these come and go, day in day out, the beach looks different everyday. If you can, make sure to catch the sunrise here as the sunlight reflecting one the ice makes the place looks magical.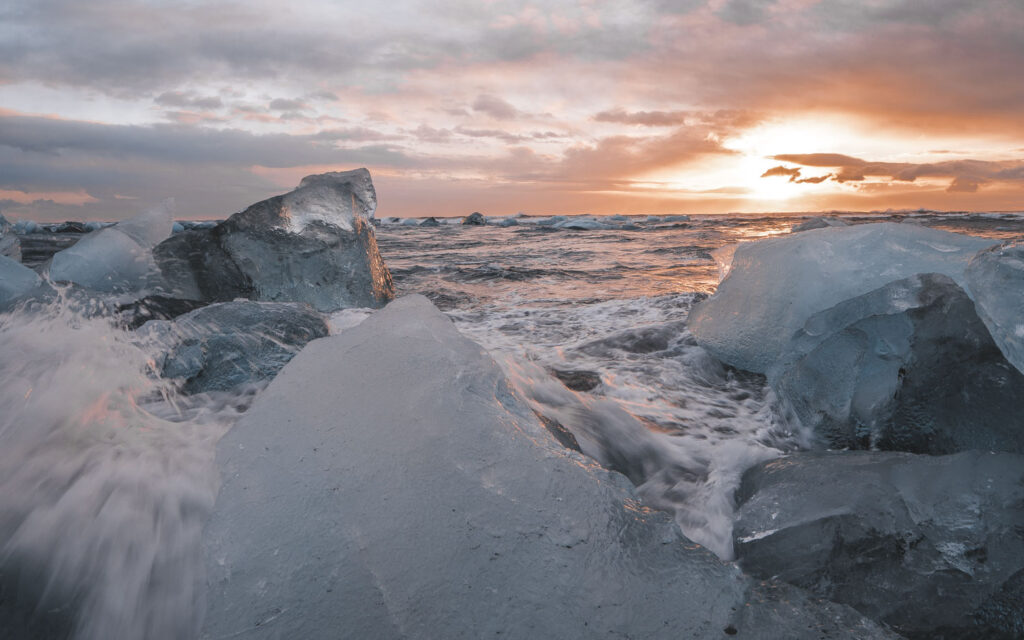 Vestrahorn & Stokksnes
Going further east on the Icelandic south coast you'll find a small town called Höfn. The town is located right next to the Stokksnes peninsula, a beautiful hiking area. Stokksnes offers some of the most dramatic landscapes I've seen in Iceland, with the Vestrahorn mountain in the backdrop. This place is also great to come at night and watch the Northern Lights. Note that there is an entrance fee to enter the peninsula.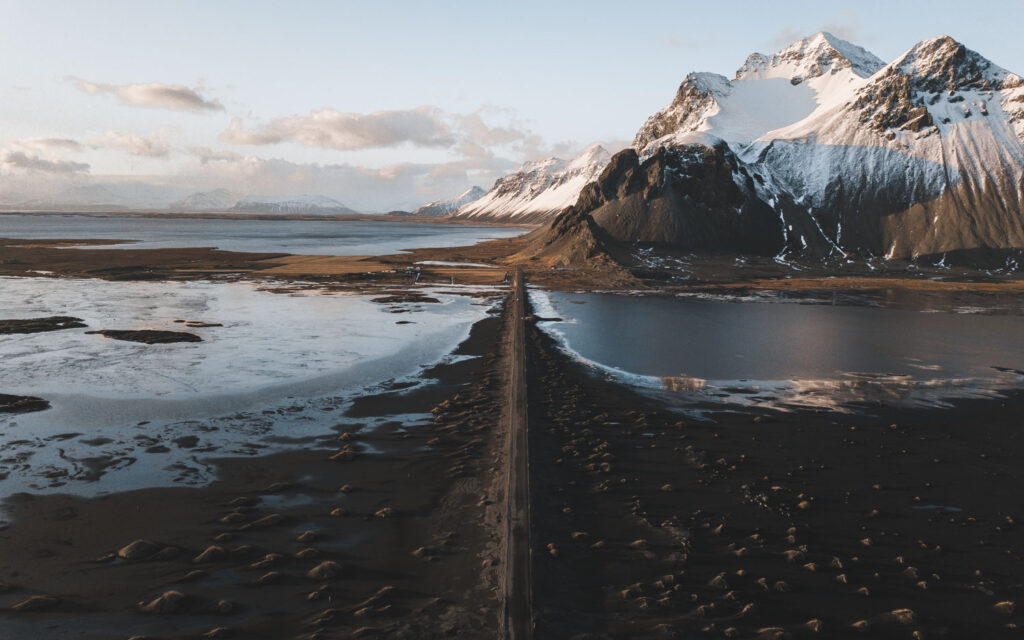 Eystrahorn
I didn't go any further east than Eystrahorn. It was extremely windy when I went here which made it difficult to drone, however in better weather conditions it's an amazing spot to fly. In front of the Eystrahorn mountain you'll find the orange painted Hvalnes Lighthouse, where you can park your car. There's a spectacular beach here as well, not nearly as famous as Black Sand Beach. Be careful flying your drone here, it was extremely windy and I had a hard time getting it back after flying over the ocean!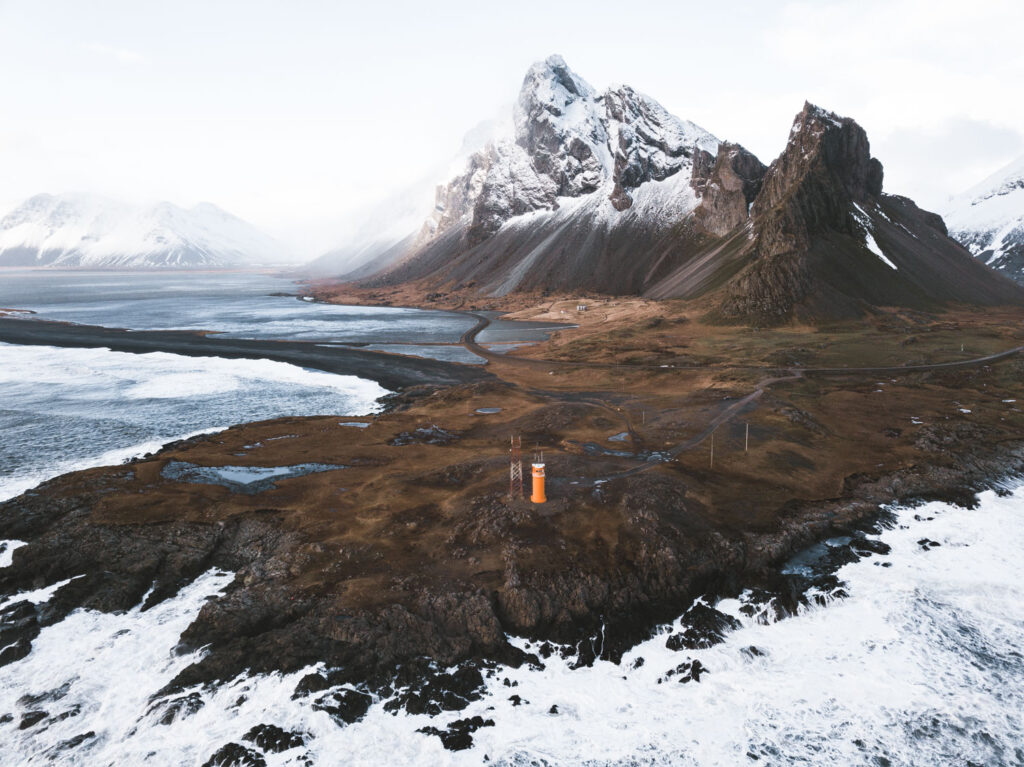 Suggested Iceland 7 day road trip itinerary
Day 1: Reykjavik (1 night)
Day 2: Snæfellsnes Peninsula (1 or 2 nights)
Day 3: Geysir Area (Golden Circle) (1 night)
Day 4: Vík í Mýrdal (1 or 2 nights)
Day 5 and 6: Höfn (2 nights)
Day 7: Reykjavik (1 night) – or somewhere in between Höfn and Reykjavik
I had limited time and stayed only one night in both Snæfellsnes and Vík. In little time i still managed to visit what I wanted to visit. However I'd recommend staying an extra night in both places if time permits for you.
Most of the highlights I mentioned above are located either close to the places I suggest to stay in, or right in-between in which case you can visit them on the way.
Iceland one week road trip highlights Google Map
Where to stay in Iceland?
In the places I mentioned in the above suggested itinerary have plenty of options to stay. Accommodation in Iceland isn't cheap however there are different types of accommodation available for every budget. Here's where I stayed:
Snæfellsnes Peninsula: Arnarstapi Hotel. Nice little hotel with beautifully minimalistic sea view rooms. In the early morning you can walk to the cliffs right in front of the hotel and enjoy sunrise with the Arnarstapi Mountain right behind you.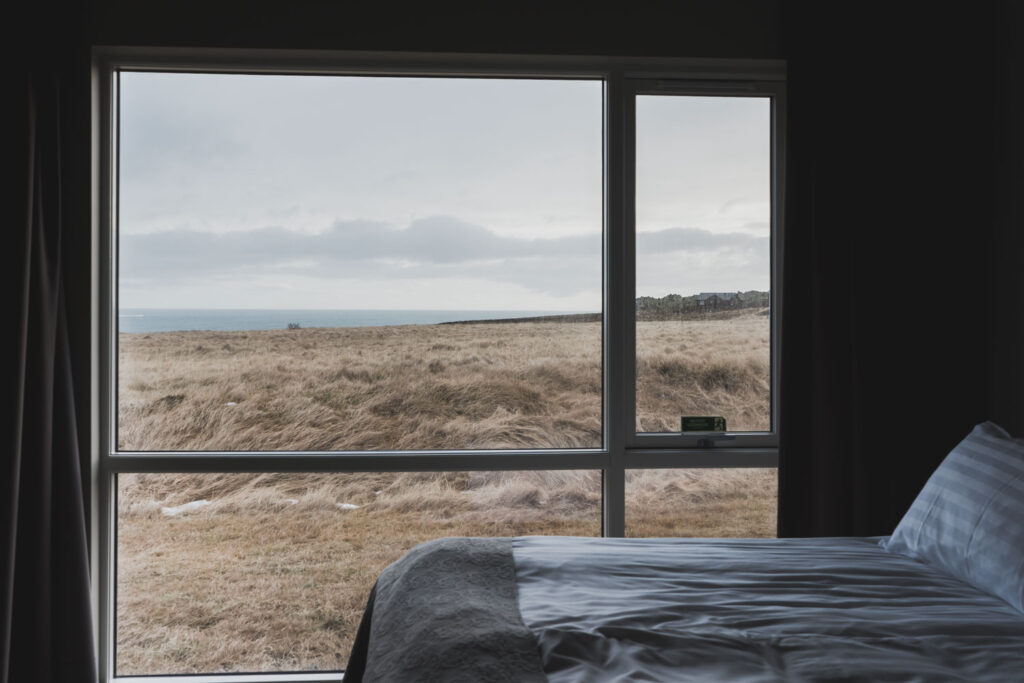 Geysir Area (Golden Circle): Hotel Geysir. This is the most fancy and pricy place I've stayed in Iceland. Brand new. Incredibly nice designed hotel. Very comfortable and right in front of the Geysir Park. I loved everything about this hotel.
Vík í Mýrdal: Farmhouse Lodge. This place was actually a bit outside of Vík. Very budget friendly and nice if you like communal spaces and connecting with other people. Good for budget travellers. However next time I'd rather stay in Vík itself.
Höfn: Seljavellir Guesthouse. I really liked this place. The guesthouse is quite basic but all clean and new and spotlessly clean. Super friendly staff and just a few minutes driving from the town of Höfn.
Reykjavik: Grímur Hotel. Technically I did not stay here, as I arrived one day late. But I was supposed to stay here, I choose the hotel for it's good price and free car parking. It's a bit outside of the city centre or Reykjavik but that shouldn't be an issue if you have a rental car.
Hella: Hotel Hella. No thrills hotel where I just spend the last night in-between Höfn and Reykjavik, as I had an early morning flight out of Reykjavik and wanted to split up the drive in two parts.
Iceland 7 Days Road Trip Budget
Iceland is certainly not a cheap country, however as with every destination, you can still control your spendings in certain categories depending on your needs. On the bright side: Iceland's biggest attraction is the Icelandic nature itself, and for most natural attractions (with the exception of Stokksnes, which is private property) there is no entrance fee.
Hotels: expect to pay around EUR 125,- a night for a basic double room (for more luxury hotels or special views the price can go way beyond that).
Car rental: around EUR 100,- a day including full insurance (zero excess). If you are visiting Iceland in winter I would recommend renting a 4WD. The ring road is in excellent conditions, however the weather is unpredictable and you might just find yourself unexpectedly driving in heavy snowfall that could create completely different conditions from what you're used to back home. A 4WD will keep you more stable and save on the road than a small car that would be cheaper to rent. You can compare different car rental companies here. I used Reykjavik Cars (I am in no way affiliated with them).
Fuel: it's hard to make an estimation for this here, as the fuel prices keep on changing all the time. More information about fuel prices in Iceland can be found here.
Food: expect to pay around EUR 50,- per person for dinner in a restaurant. Breakfast is included in some accommodations. For breakfast (when not included) and lunch we would usually get a sandwich from a bakery or supermarket to save money and time. Tip: if you are waking up early to catch the sunrise it's advisable to have some snacks in your car. I always keep some granola bars in the car for whenever I am hungry and there is no food nearby.
Attractions: I didn't spend much money on attractions. For me the biggest attraction of Iceland was the country's spectacular nature. However if you are planning on booking tours or visiting the Blue Lagoon it is advisable to check the current fees online (spoiler: they aren't cheap).
What to pack on a road trip to Iceland?
The clothes you need to pack for a trip to Iceland greatly depend on the season you are visiting the country. Here is what I recommend to pack for a trip to Iceland specifically in winter, on top of my standard packing list:
Thermal layers: you can wear these as an extra layer to stay warm underneath your normal clothes.
Fleece clothes: both fleece (snow) pants and a fleece jacket to stay extra warm. Oh and don't forget the extra layer of fleece socks if you are like me, always cold!
Water and wind proof winter jacket: this is essential.
Waterproof shoes: preferably boots' style (e.g. Timberland, Colombia, etc) with good grip. You could add crampons to that (I did not) depending on how much you are planning to walk on ice.
Gloves, hat: to keep your hands and ears warm.
Snacks: you can simply stop at any supermarket to get these in Iceland. But snacks should never be missing on a good road trip!
Water flask: don't bother buying water. Tap water is perfectly safe to drink. Simply refill your own flask and save money and plastic.
Note that I bought the thermal and fleece clothing at Decathlon which I find to have quite reasonable prices.
---
Visited: February 2020.