As a Dutch flight attendant, the non-Dutch crew on my flights to Amsterdam are always asking where to go on their 24 hour layover in Amsterdam. Therefore I created this layover guide where I share with you my favourite spots to go in the capital of the Netherlands. To make it easy for you, I've put all my favourite places on Google Maps right at the end of this article.
Table of Contents
How go get from Schiphol Airport to the Amsterdam City Centre
There are three options to get into the city centre of Amsterdam from Schiphol Airport. The most frequently used one is by train to Amsterdam Centraal Station. This will cost you around EUR 5,- per one way ticket and and will take you straight to the centre of Amsterdam. Trains run 24h a day and schedules can be found on the NS Dutch Railways website. It will take you 15-20 minutes. Tip: download the NS app and buy the ticket in the app, this will save you EUR 1,- per ticket. Update: you can now pay contactless on the train, simply tap in and out with your card and no need to buy a physical ticket anymore. In the airport you tap before going down to the platform, in the city once you enter or exit the station.
The second option is by bus. Bus number 397 takes you to Amsterdam Zuid, Vondelpark, Museum Square (Museumplein), Leidse Square (Leidseplein) and Elandsgracht. The price is EUR 6,50 and it takes about 30-40 minutes depending on the stop you get off. Tickets can be bought on the bus or online (card payment is accepted).
The third option is by Uber, Bolt or Taxi. This is the most expensive option, about EUR 35,- depending on your final destination in the city and the hour of the day. However if you are sharing the price of a taxi among 3 or 4 people it is only slightly more expensive than the public transportation.
How to get around in Amsterdam
Walking. Amsterdam isn't a very big city. Almost all places in the city can be reached by foot. Feeling adventurous? You can always try renting a bicycle too! However I highly recommend just walking. If you feel tired at some point you can always catch the tram or metro back.
Walking itinerary for your first visit / layover / day or afternoon in Amsterdam.
If it is your first time visiting Amsterdam and you just want to walk around, I have the perfect walking itinerary for you. In this walking itinerary you'll walk a relatively small circle starting from central station, through the main shopping area of the city, along scenic canals and back through the red light district. This walking itinerary is recommended if you only have one afternoon to spare, it ends at the red light district which you should try to reach after the sun has set.
Disclaimer: this itinerary takes you through some of the most touristy parts of town. The streets might be not clean, it might be very crowded at some places. Personally I'm not the biggest fan of these areas, but they are a good start for a first visit to Amsterdam. Although there are some nice gems down the route. Further down in this article I will recommend you my personal favourite areas to walk around, shop, eat and drink.
Walking itinerary for one afternoon in Amsterdam
Simply take the train to Central Station and take the main exit. You will now see a boulevard called Damrak.If you walk down this street you'll quickly reach Dam Square. At the beginning of the street there are plenty of companies offering canal cruises (usually about 1 to 1.5h, highly recommended). You'll also see the famous Amsterdam houses in the water on your left here (see picture below).
On Damrak you will also find Manneken Pis, a very famous place to eat Flemish fries which has won several awards for best fries of The Netherlands. There are many shops here too, such as Primark and H&M. Parallel to Damrak there is another (pedestrian only) street called Nieuwendijk. You can take this street, with lots of shops, to Dam Square too. If you follow Nieuwendijk in the opposite direction of Dam Square it will ultimately (a short walk only) take you to the Haarlemmerstraat where you can buy nice cheeses and croissants. More about that further down in this article.
Shopping around Dam Square
Once you reach Dam Square you will see the Royal Palace of Amsterdam on your right hand side. On your left you will see De Bijenkorf, the most famous and iconic department store of Amsterdam. From Dam Square you can go straight ahead on to the large boulevard called Rokin (make a pitstop at the super cute little Dutch bakery called De Laatste Kruimel, check out their small little balcony at the back), or take the small parallel pedestrian street (Kalverstraat), these are the main shopping streets of Amsterdam.
Picturesque canals and bridges
Continuing straight (if you don't stop for some delicious cookies at Van Stapele Koekmakerij on the way) from here you'll reach Rembrandt Square, a square full of bars and terraces. After Rembrandt Square you will eventually reach a bridge crossing the Amstel River and see an old church in front of you. Left in front of the church you'll see Waterlooplein (Waterloo Square) with its flea market popular among tourists (a good place to buy souvenirs!). From here check your Google Maps/Maps.me (I added a map below with the entire walking route on Google Maps) and head to the Staalstraat by crossing a small bridge. Right after that there is another bridge on the same street, called Staalmeestersbrug. This is a perfect Instagram spot to take a picture of a traditional small Amsterdam Canal with a little church in the background.
Evening in the Red Light district
Before the third bridge on the same street, turn right on to the Kloveniersburgwal. Ideally it should be dawn by now, because you are about to reach the Red Light District. Down the canal you'll find a traditional Dutch "brown" Cafe Restaurant called De Engelbewaarder. Great for a beer or for an informal dinner. They have a very competitively priced "dish of the day" which changes everyday. Walking further down the same canal you'll reach the Nieuwmarkt, a square with an iconic building in the centre called De Waag. This square is full of terraces and cafes too, and is the heart of Amsterdam's very own China Town. If you continue the small pedestrian road behind De Waag, called the Zeedijk, you'll find countless Asian restaurants and even a temple! Eventually this street leads you back to Central Station.
However if you turn left on the Nieuwmarkt square, you'll enter the famous Amsterdam Red Light District. Here you can roam around the small and (at night very busy) canals. Make your way to the Oude Kerk (Old Church) and explore the small alleys behind.
In this area there are two gems to have a drink or eat: Mata Hari is a restaurant/bar that serves great cocktails, they have a terrace right along the canal. Here you can also see the traditional Dutch houses right in the water of the canal. Hidden in a small alley, Brouwerij (Brewery) De Prael is a very cool local craft beer brewery that also serves comfort food. Both places are perfect for one last drink before heading back. A short 5 minutes walk from here will take you back to Central Station from where you can catch the metro, tram or train back to your hotel.
Amsterdam Layover Walking Itinerary on Google Maps
My favourite areas to go in Amsterdam
De Negen Straatjes (The Nine Streets) for shopping
Just behind Dam Square you will find an area called De Negen Straatjes (The Nine Streets). The area consist of (surprise) nine little streets with lots of bridges over the canals in-between. The area has a mix of small branded stores, boutiques and alternative shops. You'll find plenty of places little cafes and places to eat in these the picturesque little streets.
Close by De Negen Straatjes (but not exactly on one of The Nine Streets) you will also find the famous Anne Frank House. Furthermore, if you want to try some delicious hand made cookies you can also check out Van Stapele Koekmakerij. Be prepared to queue.
De Pijp
This is a great area to walk around, full of restaurants, cafes, little shops and small green parks. Besides, De Pijp is also home the famous Albert Cuypmarkt (Albert Cuyp Market) which opens Monday till Saturday. Have a coffee at Coffee & Coconuts, some ice cream at Massimo Gelato or have some delicious Vietnamese Pho at Pho 91. Furthermore, you'll also find an outlet of Gs brunch here. Yes, de Pijp is a paradise for foodies and instagrammers.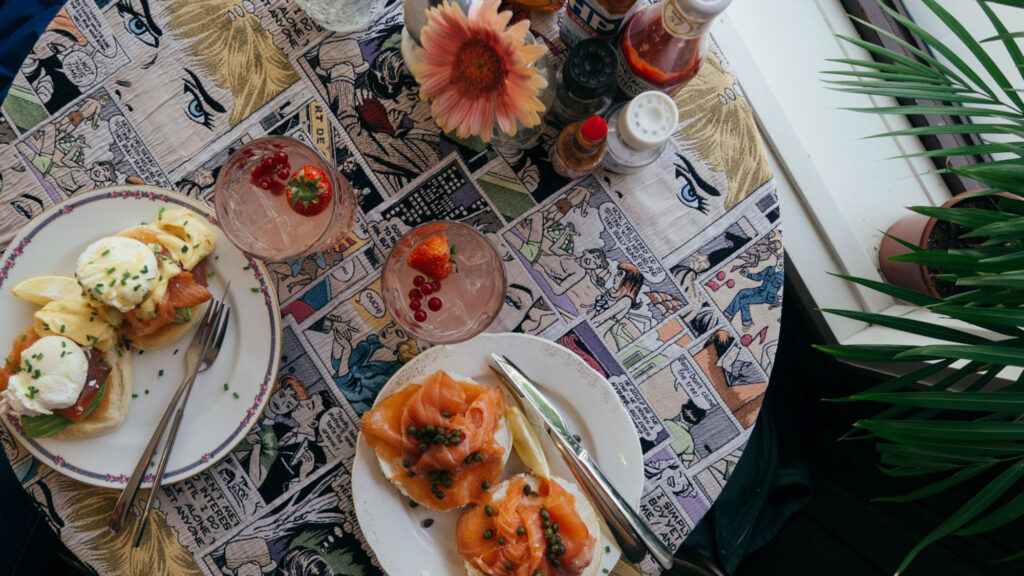 Do like some of the locals do: on a warm summer evening you can grab a beer and some snacks at Albert Heijn, Jumbo or Drink van den Broek (supermarkets) and enjoy a little picnic in the Sarphatipark. Not to mention the countless terraces outdoor to have dinner or a drink here. With the addition of Amsterdam's latest metro line it is now super quick and easy to reach this area from Central Station. Simply take the Noord Zuidlijn and get off at De Pijp.
De Plantage & De Kadijken
To me this is one of the most beautiful areas in town. Wide and green boulevards, beautiful buildings, away from the bar crawling tourist crowds, yet within walking distance of the centre and red light district. In the centre of De Plantage you will find Artis, the Amsterdam Zoo. Next to it, you will see a beautiful old building that hosts Cafe-Restaurant De Plantage. This is by far one of my favourite places to have dinner in Amsterdam. The entire atmosphere of the building and restaurant itself is just gorgeous, yet not too formal. Unfortunately the service isn't the best, but it's hard to find places with really good service anyway in Amsterdam. Further down the street called de Plantage Kerklaan you will also find the University Of Amsterdam, as well as De Pizzabakkers if you are in the mood for pizza.
Another place of interest in de Plantage is Amsterdam's botanical garden, the Hortus Botanicus. The Hortus Botanicus is one of the oldest botanical gardens of the world.
De Kadijken is an area located right next to the Plantage. This area is home to a very cute little square called Kadijksplein. This is a true gem as the square, located around a little historic bridge over a small canal, is home to some really nice restaurants. Besides, you won't see many tourists in this area, although it's just a short walk away from Central Station. My favourite places here: Cafe Kadijk (definitely my favourite on the square, a little informal Amsterdam style cafe with really good Indonesian food), Sotto Pizza (Italian), Bakers & Roasters (breakfast & brunch Kiwi style), Restaurant Kilimanjaro (specialising in Ethiopian and Eritrean food).
Oud Zuid, Museumplein and Vondelpark
This is quite a touristy area that you can find lots of information on already online. It's also not an area that I am not very familiar with in terms of places to go other than the famous tourist attractions and museums, which is why I will keep this section short. I did feel that it had to be in this guide though, as this area is home to some of the most famous museums of the country. At Museumplein (Museum Square) you'll find Amsterdam's most famous museums. A short walk from here takes you to the Vondelpark, which is the largest park of the city.
Haarlemmerstraat
The Haarlemmerstraat is a street very close to Central Station. The street itself is quite narrow and chaotic, with lots of bicycles, cars and pedestrians all over the place. However it is full of restaurants and little shops. Two places deserve special attention here:
Kaasland because they sell really nice cheeses. You can try most of them, and they can wrap them in vacuum paper so you can keep them for a long time.
Gebroeders Niemeijer because of their amazing croissants (bakery), technically on the Nieuwendijk, just before the Haarlemmerstraat.
Traditional Dutch food, what to eat and buy in Amsterdam?
Buying Dutch cheese in Amsterdam
Amsterdam is full of Cheese shops. Some are branded, some are local, and some are more for tourists (with inflated prices). First things first: I usually buy cheese in the supermarket. Supermarkets in The Netherlands have a wide variety of cheeses for very affordable prices. Even the famous "Old Amsterdam" cheese that you see in some shops at the airport is one that you can simply buy in any large grocery store.
That said, I sometimes like to treat myself for some Truffle or Pesto Gouda cheese. Personally I like to go to Kaasland, close to Central Station. Kaasland is everything that a cheese shop should be: amazing cheeses, samples, the option for vacuum packing (so you can keep the cheese for a long time) and most of all it is not solely tourist orientated. I believe that the prices are in line with the quality they offer.
Another great place to buy (non-Dutch) cheese is Fromagerie Abraham Kef. At their larger outlet in Amsterdam Noord you can even do a cheese tasting paired with wines!
Pannekoeken (Dutch Pancakes)
I just love Dutch pancakes. They look and taste so different from the American ones. As a matter of fact my mother once accidentally ordered American style pancakes somewhere (she thought she just ordered "Dutch" pancakes). When her dish was served she thought the waiter made a mistake as she didn't recognise what was on the plate as pancakes. Dutch pancakes come in all kinds of flavours, sweet and savoury. I highly recommend you to try the savoury ones. You won't regret it. Restaurants specialised in pancakes are called "pannenkoekenhuis", which literally means "pancake house", recommended places are: Pannekoekenhuis Upstairs and The Pancake Club. These gems are actually discovered by David on his layovers in Amsterdam, as normally I just have pancakes at home!
Poffertjes are pannekoeken's little sibling. A bunch of super fluffy tiny pancakes served with powdered sugar. You can usually find these at markets and funfairs as a typical snack / street food,
Kibbeling
Kibbeling: deep fried battered chunks of (cod) fish usually served with tartar or garlic sauce. You can find this snack (usually for take away, like you would have fries for take away) on at market stalls, fish shops, or just at any "Fish truck" in the city. There is a fish truck right behind Dam square right here. They also sell herring, however that is the one Dutch snack I simply do not like.
Appeltaart (Apple Pie)
Who doesn't love appeltaart? One coffee with appeltaart. Whipped cream? Yes please! You will find it at most places in Amsterdam, but the most famous one is Cafe Winkel 43 (you might have to line up here depending on the time and day).
My favourite restaurants and cafes in Amsterdam
A list of many of my favourite places in the city. Will be updated constantly when I remember more great places. Google Map featuring all the places below.
Best places for Breakfast, Brunch & Lunch in Amsterdam
Bakers and Roasters (brunch)
Coffee & Coconuts (coffee and brunch)
Greenwoods (brunch)
De Laatste Kruimel (bakery, coffee, breakfast/lunch)
G's Very Nice Place (brunch)
Cafe Winkel 43 (famous appeltaart!)
De Drie Graefjes – American Bakery (must try: red velvet cake)
Eetcafe Singel 404 (I just love this place, all kinds of sandwiches, perfect for lunch)
Dignita Hoftuin (brunch)
Massimo Gelato (Ice Cream)
Pisa Ijs (Ice Cream)
My favourite places for Dinner and or Drinks in Amsterdam
Cafe Restaurant De Plantage (just beautiful, I love the ambience here)
Cafe Restaurant Amsterdam (seafood)
Pesca (seafood)
De Ysbreker (try their half lobster)
Cafe Kadijk (Indonesian in a Amsterdam Style Cafe)
Kilimanjaro (Ethiopian)
Pho 91 (Vietnamese)
Ropram roti (more of a take away place, but really good Surinam Roti rolls and dishes)
Sotto Pizza
De Pizzabakkers
New King (iconic Chinese restaurant in Chinatown)
Bird (Thai food in Chinatown)
Pllek (along the waterside, you have to take the free ferry from Central Station to get here, but it's a unique place especially in summer)
Hanneke's Boom (nice for a drink along the waterside too, walking distance from Central station)
Canvas (rooftop bar/restaurant where you can dance afterwards on Fridays and Saturdays)
Piet de Leeuw (traditional Dutch steakhouse)
Cannibale Royale (steak)
Cafe De Engelbewaarder (beers and cafe food)
Mata Hari (drinks / cocktails and dinner)
Brouwerij de Prael (local craft beer brewery that serves comfort food as well)
Cafe Brecht (mainly for drinks, in an old school Berlin style living room)
Waterkant (nice outdoor place to hang out especially in summer for a drink or some Surinamese food)
Hakata Senpachi (Sushi)
Vegan Junk Food Bar (vegan)
Golden Temple (vegan / vegetarian)
Brouwerij 't IJ (drinks only, the original beer brewery of famous "Ij beers", great spot in summer to try local craft beer outdoors situated next to a traditional Dutch windmill)
De Hallen (Foodhallen), various types of food stalls indoor with a bar in the middle. Very much like TimeOut Market in Lisbon and Dubai.
Doing groceries in Amsterdam
One of the most asked questions by airline crew: where is the supermarket? My favourite Dutch supermarket is Albert Heijn (logo: AH in light blue). To avail the discounts you need to scan a "bonuskaart" which you can get for free at any AH. If you don't have one, simply ask the cashier to scan theirs (they usually have one bonuskaart at any cashier). Albert Heijn can be found all around the city, but the bigger ones are behind the Dam Square and on Waterloo Square. Good news: there is also an Albert Heijn at the airport, and prices are not inflated because of its location! Note: not all outlets of Albert Heijn take credit cards! The airport one does, but of them only take Dutch debit cards. Other good supermarket chains are Jumbo and Dirk van den Broek, both do take international credit cards.
My favourite plant store in Amsterdam
As some of you know I am a huge fan of houseplants. If you are a plant lover too too, then Wildernis is a must visit. The small plant store just looks amazing and has really friendly staff as well. Plant lovers will feel excited instantly when entering this store!
Google map of all places in this Amsterdam layover guide